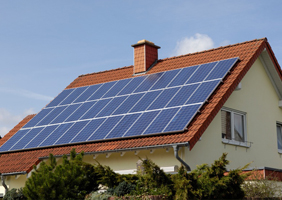 Srinergy makes going solar easy with our standardized 3 kW, 4kW and 5 kW Residential Solar Kits. After years of experience in the Michigan residential market,  these kit sizes work for the majority of homes in Michigan.
Srinergy Solar Kits include the following:
• Solar Panels
• Inverter & Power Optimizers
• Mounting System
• Lifetime Web-Based Monitoring Capability
• Line Drawings & Layouts
• Brochures & Installation Manuals
To learn more about each kit, click below:
Srinergy 3 kW Residential Solar Kit
Srinergy 4 kW Residential Solar Kit
Srinergy 5 kW Residential Solar Kit

Our solar kits are designed and assembled in the Michigan, with all kit components coming from the U.S.A. Srinergy can provide customized solar energy systems to complement unique architectural designs and a variety of residential needs including decks, pergolas, garages, barns and other residential outbuildings. Battery back-up systems can also be customized to suit your needs.
For pictures of all examples of some of our residential installations: Click here