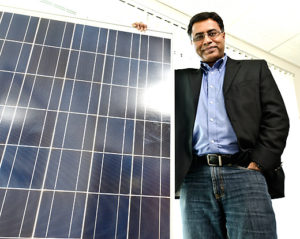 Srinergy is a clean solar energy technology company with design and development capabilities, providing turn-key solar energy solutions for utility, commercial and industrial customers. We had great success in carving out a specialty niche for ourselves, and have earned an excellent reputation within the industry for reducing energy costs and reducing the carbon footprint for our customers.
We continually seek out the latest technologies in solar energy generation and solar storage as such, have formed strategic partnerships with companies in these areas to complement our offerings. Srinergy has extensive experience in working with solar utility companies for interconnection requirements and have successfully grid connected solar projects.
Srinergy is passionate about what we do on a day-to-day basis and that passion translates into going the extra mile and maintaining our goal of exceeding our customers' corporate sustainability goals in all that we do.
GET SOLAR NEWS NOW AND KNOW
HOW to
PAY LESS FOR YOUR ENERGY TOMORROW!