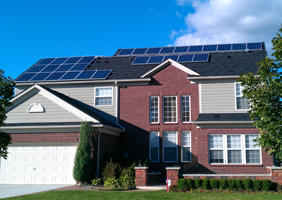 MI Solar Works is a state-wide residential solar initiative, led by Srinergy, along with community partners, to solarize 6,000 Michigan homes and businesses by the end of 2014 as part of the U.S. Department of Energy's "Race to the Rooftops" National Challenge. We have brought down the cost of solar to a very competitive price, making it attractive and affordable for Michiganders to finally Go Solar.
Along with competitive pricing, zero down financing is also available through Michigan Saves and is based on credit approval. Homeowners and businesses can also take advantage of a 30% federal tax credit on the total cost of the solar system through 2016
For more information on the program: Click here
Will solar work for your home? Here are some questions to ask:
Do you have a south facing roof exposure?
Is your home relatively free of shading from trees?
Is your average electric bill over $50 per month?
If you answered "Yes" on these questions, you may be a good candidate for solar!
FIND OUT MORE
To find out more about the MI Solar Works program, please complete the form below for a FREE, no obligation solar energy evaluation.
Upon review of the information provided, a member of the Srinergy Sales Team will be in touch to talk Solar and see if it works for your home or business.
For questions on the MI Solar Work program, give us a call at 248-257-4054.